Lichen sclerosus in pediatric age: A new disease or unknown pathology? Experience of single centre and state of art in literature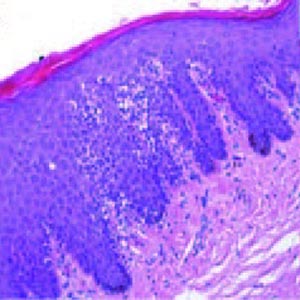 Submitted: 8 September 2021
Accepted: 27 January 2022
Published:
1 March 2022
Publisher's note
All claims expressed in this article are solely those of the authors and do not necessarily represent those of their affiliated organizations, or those of the publisher, the editors and the reviewers. Any product that may be evaluated in this article or claim that may be made by its manufacturer is not guaranteed or endorsed by the publisher.
Lichen Sclerosus (LS) is a chronic inflammatory skin disease with unknown etiology. In pediatric age the main disease "lichenlinked" is the phimosis in male. This is a retrospective study that reports the experience of our clinic and review of the literature. We included all patients affected by pathological phimosis, treated by circumcision between January 2015 and May 2020, older than 6 years old and with an histopathological diagnosis of lichen sclerosus. The aim was to identify prognostic factors based on histological report to plan the clinical management of patients. Statistical analysis was done. We included 207 patients. The mean age of children was 9,78 years (5-18 years, DS±3.29). Based on the histological features we divided patients in 2 groups: early lesions (70/207, 34%) and advanced (137/207, 66%). In term of complications lichen linked we considered meatal stenosis that needed of urethral dilatations. We included 7 patients (7/207, 3,4%). We report P value Statistical Significance in many aspects. An early diagnosis of LS and surgical treatment of foreskin are essential to prevent early and late complications in children. The size of sample is a limit of the study but results encourage our management.
Promm M, Rösch WH, Kirtschig G. Lichen sclerosus im Kindesalter. Urol 2020;59:271-7. DOI: https://doi.org/10.1007/s00120-020-01140-w
Tran DA, Tan X, Macri CJ, Goldstein AT et al. Lichen Sclerosus: an autoimmunopathogenic and genomic enigma with emerging genetic and immune targets. Int J Biol Sci 2019;15:1429-39. DOI: https://doi.org/10.7150/ijbs.34613
Gundula K. Lichen sclerosus—presentation, diagnosis and management. Dtsch Arztebl Int 2016;113:337–43.
Kizer WS, Prarie T, Morey AF. Balanitis xerotica obliterans: epidemiologic distribution in an equal access health care system. South Med J 2003;96:9e11. DOI: https://doi.org/10.1097/00007611-200301000-00004
Celis S, Reed F, Murphy F et al. Balanitis xerotica obliterans in children and adolescents: A literature review and clinical series. J Pediatr Urol 2014;10:34-9. DOI: https://doi.org/10.1016/j.jpurol.2013.09.027
Angotti R, Cerchia E, Molinaro F. et al. Circumcision with Glubran® 2 in children: experience of Italian Center. Gland Surg 2016;5:391-7. DOI: https://doi.org/10.21037/gs.2016.03.03
Angotti R, Molinaro F, Ferrara F. et al. Preputialplasty: can be considered an alternative to circumcision? When, how, why? Experience of Italian centre. Gland Surg 2018;72:228-233. DOI: https://doi.org/10.21037/gs.2018.02.04
Homer L, Buchanan KJ, Nasr B, et al. Meatal stenosis in boys following circumcision for lichen sclerosus (balanitis xerotica obliterans). J Urol 2014;192:1784-8 DOI: https://doi.org/10.1016/j.juro.2014.06.077
Angotti, R., Fusi, G., Coradello, E., Miracco, C., Ferrara, F., Sica, M., Taddei, A., Vasta, G., Messina, M., & Molinaro, F. (2022). Lichen sclerosus in pediatric age: A new disease or unknown pathology? Experience of single centre and state of art in literature. La Pediatria Medica E Chirurgica, 44(1). https://doi.org/10.4081/pmc.2022.275
Copyright (c) 2022 The Author(s)
This work is licensed under a Creative Commons Attribution-NonCommercial 4.0 International License.
PAGEPress has chosen to apply the Creative Commons Attribution NonCommercial 4.0 International License (CC BY-NC 4.0) to all manuscripts to be published.